Queen Studios' February 2022 Review
2022 Kicked off with a BANG, Queen Studios' Kick-off event went down brilliantly, there was some great reveals, and the audience was great. You can check out our last months review here.
Since then February has dawned upon us and Queen Studios' have started 2022's second month with an incredible selection of pre-orders that collectors went crazy about. But other than that, it was a quiet month for the Queen Studios team.
While some of our peers were putting out some amazing work, we started the month with a well earned break for Chinese New Year.
Make sure you check out the highlights below, and scroll down for some insights into what we have in store for March!
Bloodstorm 1/4 Statue Pre-Orders
The first pre-order of February 2022 is Queen Studios BloodStorm Batman 1/4 scale statue. This 1/4 scale demonic Batman statue stands at 72cm tall and depicts the Bat perched on a gravestone base like a gargoyle.  A real treat for Hiroaki Nakamishi,  as he steped in on this one any helped our artist recreate this peice of Batman history.
Loki Life-Size Bust Pre-Orders
Our second pre-order of the month is Queen Studios' Avengers' Loki 1/1 life-size bust. This bust is as magnificent as the mythical Asgar. Queen Studios' artists have finely tailored his clothing with remarkable attention to detail. His royal green cape hangs majestically from his well worn golden armour, as the bust sits on a golden Asgardian inspired base. 
Collector's Stories
Queen Studios had a chance to speak to one of you guys, Hoang Anh, from Vietnam, Huang is an avid collector. HE HAS OVER 500 COLLECTABLES. You can see what collectable he has, and more below!
 March Madness
Okay, March madness might be an exaggeration or even plagiarism from the popular basketball tournament in the U.S. but what we can't play down is what we have in store. If all goes to plan this month, we could all be in for a real treat!
Phase One Releases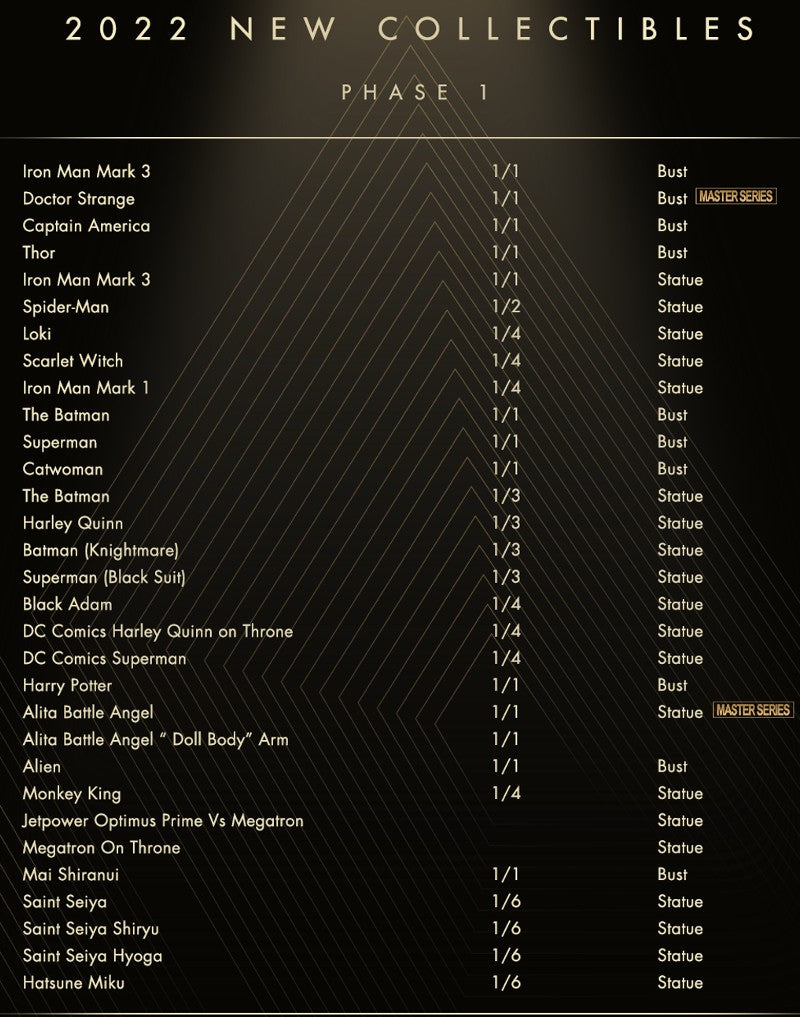 It's often said that if you try to please everyone, the you will fail. Although that is probably true, doesn't mean we can't have a good go at it.
In our Phase One Release Reveal, we announced a few suprise pieces and licenses. Especially from the world of Anime and Manga. Of course this is only Phase One, so you can expect more to come later in the year, but in the mean time, take some time to study the list and get your shelves, wallets and significant others ready for what's to come.
EVENTS
By now everyone is probably tired of the C word and we just want to get back to some sort of normal. While we're not out of the woods yet, it's not going to stop us completely.
In March, the QS team are planning on holding an online event for collectors and we've been putting in the work behind the scenes to make it special. This is a great chance for us to show you what we've been working on, and reveal a few pieces from the Phase One plan.
While we don't have a firm date as of yet, we're hoping to go live at the end of the month, so make sure you sign up to our newsletter for more information.
Wonder Con
Although technically not in March, Wonder Con in Anaheim is so close it can practically smell March's breath.
Taking place from April 1-3, Queen Studios will be represented by US Partners Cinemequette, and they're planning on debuting a few of our collectibles that are sure to be a hit. For updates on this, again, sign up to our newsletter.
GET THE LATEST NEWS AND UPDATES
If you want to be one of the first to find out about new products and get the latest scoop, then sign up to our awesome new newsletter!
---
---