TGIF No.1 Story Behind The Statue
Since the founding of Queen Studios in 2018, Queen Studios has been fortunate enough to create incredible busts and statues from popular licenses such as Marvel, DC, Terminator and Alita Battle Angel.
Thanks to your support, we're now entering our third year of work, with many iconic collectibles under our belt; from our first Loki bust, down to our Batman statues, we're hoping we can continue to create more of these iconic characters for you for many years to come.
As you may know by now, the Queen Studios team is extremely passionate about art. We put everything we have into creating some of the world's most realistic looking collectibles. Away from the big licenses, we want to be able to partner with other artists to introduce fans to other areas of art, and a new world of characters.
The TGIF series by Evan Lee is a new project that we're extremely excited about. Evan Lee is a famous illustrator from Taiwan, with a strong following in Asia. Together with Queen Studios and MADology, it's his vision to bring his incredible characters too life. A full portfolio of his work can be found at https://www.evanartweb.com
In this post, we will share with you the story behind this incredible new statues.
THE TGIF STORY
The year is 2082. It has been 40 years since a severe and deadly virus stripped away the thin veil of civilisation. In this new dystopian world, humanity has established three layers of underground societies and economies.
Underground Level 1: The world's capital and commercial layer where some semblance of a more civilised past still remains.
Underground Level 2: A world reminiscent of a time where mankind toiled in hard labour and manufacturing. In this layer, labour intensive manufacturing industries survive, while the locals live in overpopulated slums.
Underground Level 3: The deepest and darkest layer is reserved for waste management and the recycling of limited resources. At this depth, the odour is almost palpable and considered as the rock bottom of society.
In this new world, people live day to day with a pessimistic outlook on the future. The harsh new environment combined with an elevation in hormones has led to a diminishing population. With each year, there are fewer and fewer women, leading to unspeakable crimes against those that remain.To reduce the crime rates, the government has teamed up with FIGT (Figure in Gaea Technology) a private company specialising the in development of humanoid machines. This new joint venture has been coined TGIF (A.K.A Thank God It's Friday). TGIF has been created as an adult entertainment company with it's headquarters in Level 1. The companies focus is on serving the male population to satisfy their needs and desires with the aim of reducing crime against women.
The TGIF joint venture has enjoyed success from the outset. In each district the female humanoids are visible in shop windows following the Amsterdam business model. Customers can only visit with an appointment, and every Friday, there is a free public experience.
In this modern world, there are two key services. Customised Appearance, and Virtual Experience. The customised appearance allows fans to choose how their humanoid will look and dress. While the Virtual Experience requires customers to be connected to a brain nerve device device to stimulate the senses. Only men who have undergone man-machine fusion surgery can enjoy this service, but in the virtual world, anything goes!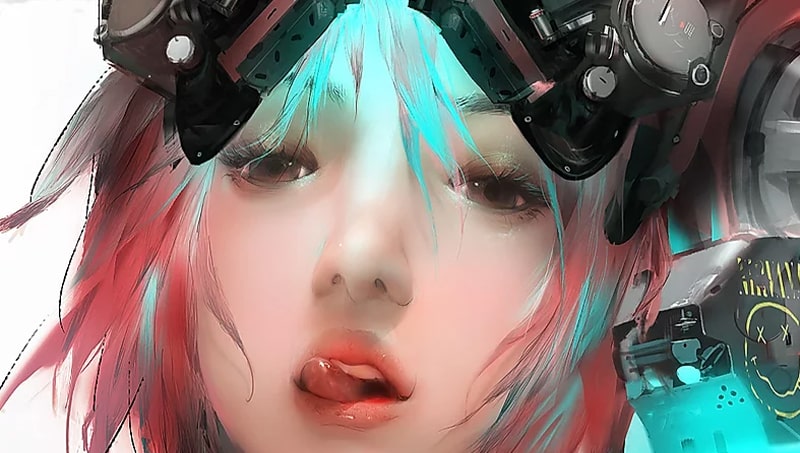 TGIF No.1 also known as Thera is one of the humanoids from the Virtual Experience. Her cute sexy exterior makes her a popular choice, but what isn't known, is she is a descendant of a human survivor. Beneath the beauty, there are many dark secrets, indicating that not everything at TGIF is what it seems!
CONCEPT ART
The prototype of Thera comes from the illustration of the same name by Evan Lee. Among the many female characters from the TGIF series, Thera stood out immediately. The combination of a cute and sexy female exterior juxtaposed against cold hard machinery and deadly weaponry instantly caught our attention.
TGIF NO.1 THERA STATUE
To bring Thera to life, Queen Studios teamed up with MADology to turn the concept into a limited edition collectible statue. Following the concept design, our artists worked as a team to create a 3D sculpt.
After the 3D sculpt, the team then make a 3D print to test the sculpt's integrity, before spraying an painting. At this stage, the idea is to try and find the right colours to make the sexy statue look like part machine, part human.
The final statue is then made out of polystone and individually painted to yield the highest quality results. As an added feature, Thera also includes lighting inside if the head gear to give a futuristic feel.
TGIF NO.1 NOW AVAILABLE FOR PRE-ORDER
 TGIF No.1 A.K.A Thera is now available from the official Queen Studios store on pre-order only while stocks last. Don't miss your chance to add this limited edition collectible to your collection
---