Joker 1/2 Statue – Story Behind the Statue
 "I used to think that my life was a tragedy. But now I realize that it's a comedy."
For some time now, there has been a saying circulating the DC universe. There are three kinds of people in the world: good guys, bad guys and the Joker. Which in a way summarizes the method to the madness we saw in 2019's Joker.
The Joker has always been a beloved villain. But that's not natural. We're meant to be hedging for the good guy, Batman, Superman, even Green Lantern. But for some strange reason these stories, whether it be in a comic book format or movie. We find ourselves delving into the madness with the character we're following. And somehow end up rooting for him.
The Character
In Tod Phillip's Joker, it's kind of understandable why we side with Arthur Fleck, the story's anti-hero. He is alone in a city full of people. He is refused medication for his mental illness and his mom's health is slowly deteriorating. The walls are closing in. And he feels he's not losing control of his life, but his mind too.
Fleck's days are bland. he's at the bottom of the Gotham City food chain and he works as a clown to make ends meet.
                                       "Can you introduce me as Joker?"
One night returning home on the subway. Fleck finds himself harassed by three of Gotham's elites. They have him on the floor, kicking him. Fleck pulls out a gun and takes two of them down. One of the rich boys manages to escape. At the next stop, the now wounded harasser tries to evade Fleck by leaving the car as the doors close. Unknowing to the bully, Fleck has lays chase. As the man tries to leave the platform Fleck guns him down, unloading his entire magazine. The Joker starts to manifest.
The Concept
Queen Studios have analyzed every second of Joaquin Phoenix's performance. They have chosen a pose that best outlines how zany and troubled Arthur is. After murdering his clown colleague. Arthur takes to the streets, to dance. But this time something is different. He has now become an amalgamation of everything unfortunate that has happened to him. And it's no longer tragic, he sees it as comedy. He has become Joker. This transitional scene of Joker dancing is where Queen Studios artist have recreated. This scene best sums up what Joker is. And our artist thinks this scene is perfect for our Joker 1/2 statue.
The Pose
While our previous Joker release focused on the smoking scene. This 1/3 recreation is less intimate. He is manic, there is nothing that can stop him. He is full of excitement, rushing off the idea that he will star on late-night television. The anxieties of stage fright are yet to set in. The most important narrative plot about this entire scene is that the Joker is now in control. The movie opens with Fleck dressed as a clown dancing in the streets holding an 'everything must go' sign. His sign is stolen by some of Gotham juveniles. When he finally catches them, they beat the living daylight out of him. He is not in control, he's a clown. Now, in the later dance scene, Fleck isn't dressed as a clown, he isn't twirling a sign. He is dancing, in his Joker attire. His left arm held high, and his right arm is pulling back. He resembles a Greek pantheon, stood strong.
3D Design
This time our team have done things a little different. As said before, our artists have decided to craft parts of this statue from silicon. More specifically, the hands and head. Silicon is a little bit more expensive than our traditional materials. But the materials applications are well worth it. Silicon is one of the best materials for replicating skin and flesh. It is durable, so it gives our team more time, to make everything perfect.
The design of the base is taken from the stairs beneath Joker as he dances in his transition dance scene. Much like our previous Joker busts & statues. Our team have tried to create a base that best emphasizes Joker and his tailored suit.
Painting & Costume Modelling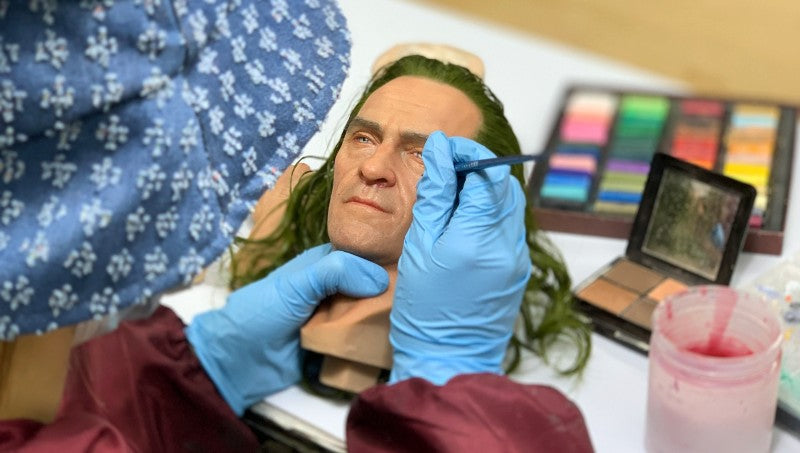 Unlike many of our other pieces, rather than paint Joker uses a lot of fabric for its mixed media. Our team use authentic fabric, and each piece of mixed media is cut specifically for each statue. He is wearing a royal red suit, a gold brick yellow waistcoat and a patterned blue shirt.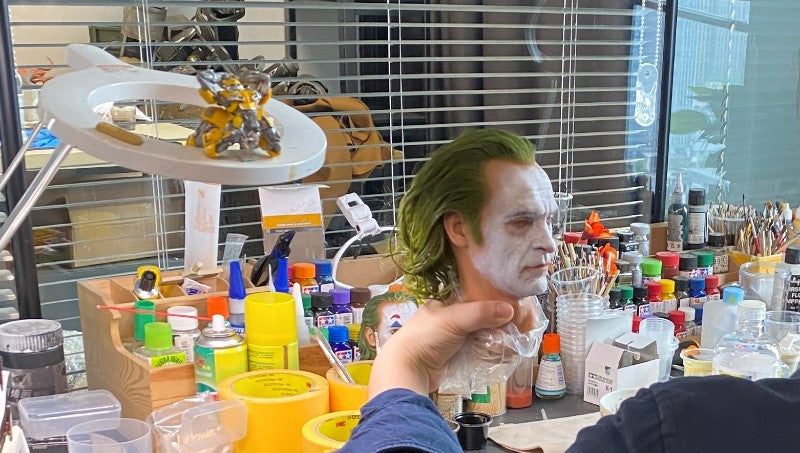 The iconic traditional face paint has been applied by hand after the face has been carved, textured, and painted. Each statue's skin is painted differently, this is because the silicon used reacts differently every time, meaning the process is a patient and diligent one.
The use of silicone for the skin, and glass for the eyes, really does recreate what we see on the screen. It is all enhanced by the use of life-like hair for Joker's green zany hair do.
Final Product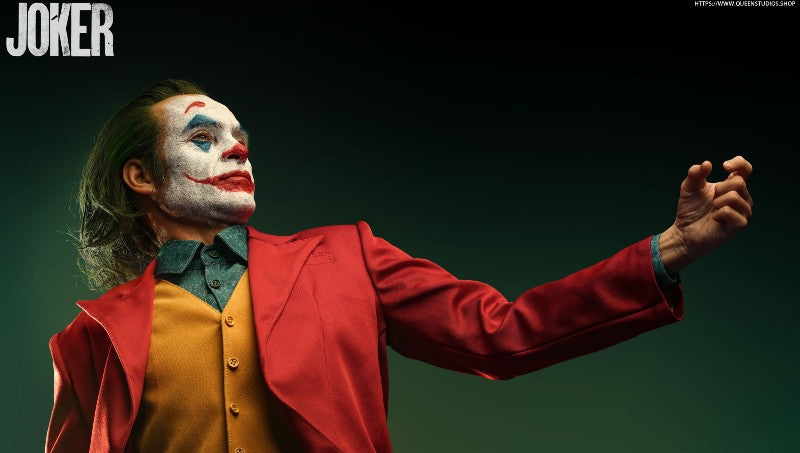 Queen studios are happy to announce the release of this Joker 1/2 life-like statue. Our prototypes are finished and the are looking as perfect as Phoenix's performance. Head over to Queen Studios store to pre-order one now.
GET THE LATEST NEWS AND UPDATES
If you want to be one of the first to find out about new products and get the latest scoop, then sign up to our awesome new newsletter!
---
Post by Luke Wainhouse
---
1 评论
---
---