Queen Studios 1/4 Spider-Man (CA:CW) Story Behind The Statue
Peter Parker is the original 'everyman' superhero. The nerdy high schooler first made his appearance in Marvel Comic's Amazing Fantasy No.15 as Spider-Man. An orphan, under the care of his Aunt May. Parker was one day bitten by a mysterious radio-active spider. As a result of the spider bite, Peter gained the power to climb walls. Along with the ability of super strength and agility.
Spider-Man has made his way to the big screen on many occasions since his creation in 1962. But a blockbuster adaptation did not hit the screens until 2002. A lot of fans consider Sam Raimi's 2002 Spider-Man the franchise's best. It not only highlights Spidey's iconic suit. But Parker, played by Toby Maguire, nails the comedic tone of the friendly neighbourhood Spider-Man.
The most recent reboot of the series however, has brought Spider-Man back into the limelight and into the MCU. We again follow Peter Parker, but this time played by a much younger British actor, Tom Holland.
The reboot's narrative takes the character in an interesting new direction, tying him in with the Avengers story arc. In this universe, Iron Man, played by Robert Downey Junior, is aware of Spider-Man's true identity and recruits the young web-slinger into his the increasingly fractured team of Avengers. Over time, the two form and incredible friendship with Stark taking on the role of father figure and a moral compass to the young Peter Parker in the process.
In this post, we'll share with you the story behind the Queen Studios 1/4 Spider-Man statue, based on Spidey's first appearance in the MCU in Captain America: Civil War. 
CONCEPT, INSPIRATION AND BACKGROUND
WHY WE CHOSE THE CHARACTER
Peter is an excellent student. A theme that resonates through-out all adaptations of the iconic comic book hero. Since the acquisition of his powers, he has always chosen to do the right thing. Though he sometimes gets into trouble, he always manages to talk his way out.
Tom Holland, is much younger than his predecessors, Toby Maguire, and Andrew Garfield. And he is a more active and boisterous Peter Parker, one that seems more like an ordinary high schooler. Since his first appearance in Captain America: Civil War, Tom seems to have hit the nail on the head, pinning down what makes Peter Parker Spider-Man.  
In Civil War, we see this younger playful Spider-Man, excited to be part of the team, the naivity of his youth and all round enthusiasm despite his lack of experience. Much like Marvel's introduction of their younger Avengers', Spider-Man. Queen Studios want to introduce you to our latest addition, The Amazing Spider-Man!
WHY WE CHOSE THE POSE
Becoming an Avenger is no easy feat. Though there is not a single test in becoming an Avenger. Before a hero can join, experience in fighting super-villains and crime is needed. Spider-Man's initiation takes place in Captain America: Civil War. Civil War's story acts as a foundation for the final Avengers' ensemble we see in Avengers' Endgame.
As many of you seasoned Avengers fans will know. In Civil War, there are two separate teams of Marvel superheroes at war. Captain America verses Iron Man. Falcon, Bucky, Hawkeye, Scarlet Witch, and Ant-Man all stand firmly with Steve.  While Rhodes, Vision, Black Panther, and Spider-Man are with Iron Man. We have chosen our Spider-Man stance from the airport fight scene. This is the first time we see Spidey in the MCU. After years of back and forth emails, Marvel and Sony came to an arrangement. This arrangement would allow Spider-Man to return to the fold and appear in the MCU. What makes this first appearance stance even better. Is, the New Yorker, on his arrival, instantly bests Captain America. And we wanted to catch that!
In the scene, both sides are at a stalemate. Captain America's side needs to escape, and Stark is under strict orders to bring the Captain in. Stark calls out to Spidey, "Underoos". A joke referencing children's underwear from the '70s. Spidey swings in, grabs the Cap's shield with his web and sticks the landing. Queen Studios have gone for this stance as it is Spider-Man's first battle in the MCU. Furthermore, a 1:4 version will best highlight the Spider-Man we see on the screen.
INSPIRATION BEHIND THE BASE
The artists at Queen Studios wanted to recreate the scene from the movie as accurately as possible. But you will see that the base we've created, and the truck that Spidey is stood on in the movie are different. This is due to the copyright restrictions of the brand of the vehicle. So, unfortunately, we could not do an exact replica of the scene. Taking this into consideration, we tried to create a base inspired by the fight scene concept. To do this, we incorporated different elements. Including airplane debris, tarmac, parts if the truck and fragments of stone.
WORK IN PROGRESS
3D DESIGN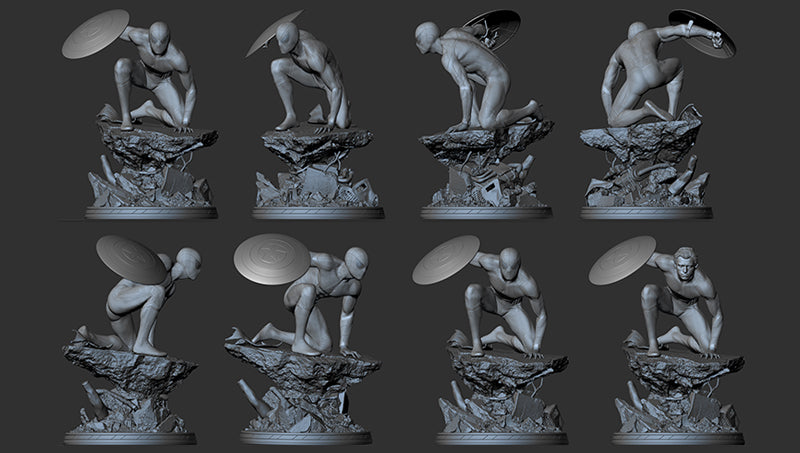 Once the artists and design team have finalized their conceptual designs. The 3D artists start sculpting. They first start by working on the shape of the statue, before adding in the intricate details of the Spider-Man suit, along with his muscular form. Outlining the suit lays a good foundation for the subsequent painting work. It acts as a guide for the painting team.
PAINTING PROCESS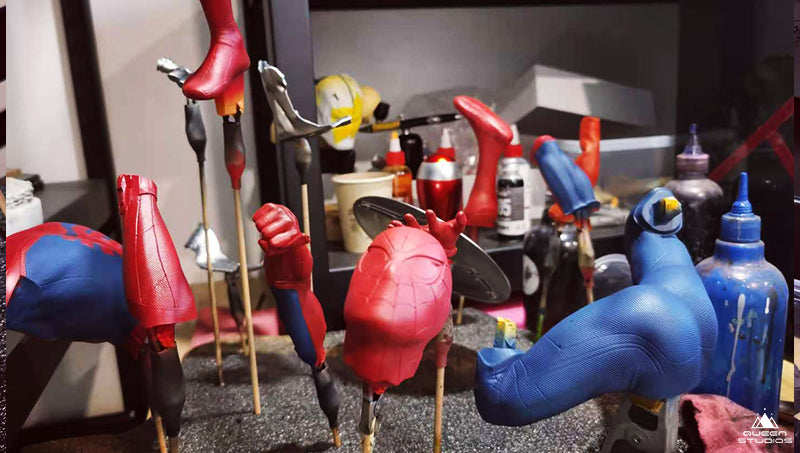 The painting process is often complementary to 3D production. The complicated 3D engraving often indicates the complexity of the painting process. How to highlight different details and textures on an all-in-one suit, is one of the defining characteristics of a skilled painter.
Tony Stark produces the suit used by Spidey in Captain America Civil War. It uses his most advanced technology. The suit has special texture and patterns, so the different parts need to appear to be different. From a painter's perspective, this is the most difficult part of the painting process. Making a believable piece of art, through the command of the color and texture of their paint. Not only perfecting color but texture also. This process takes away any rigidness of a statue and makes it appear more lifelike.
KEY CHALLENGES
After our 1:4 Spider-Man announcement. We received copious amounts of positive feedback from you, the fans. However, some of you suggested the texture of the Captain America shield should be more 'vivid' or metallic. Unfortunately, there are still some limitations with the polystone material our artists use, as the technology isn't quite there yet. Polystone can get us close to what fans want, but not all the way there. Therefore, to create a more authentic looking material to the original, we have opted for metal. It works perfectly and is more authentic than before.
EXTRA FEATURES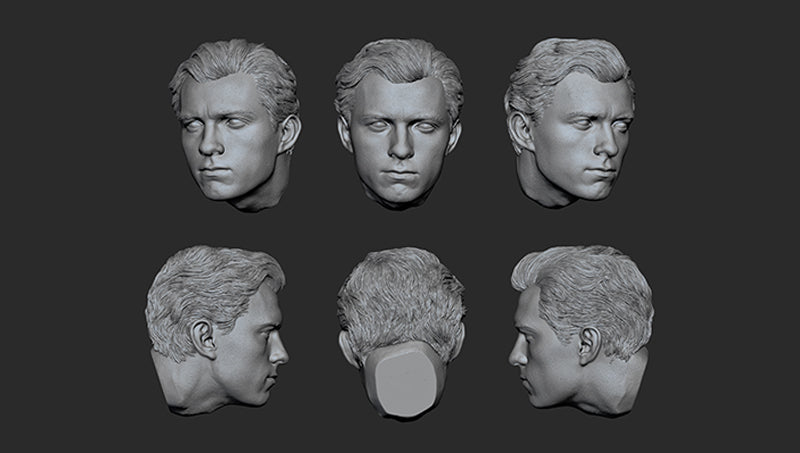 As we couldn't make a 100% movie accurate Spider-Man statue, our artists decided to use some creative license. To add an extra feature, our team worked hard on a Tom Holland head sculpt which features as an extra switch-out piece.
In total, the Spider-Man statue features three unique head sculpts. One with narrow lenses, one with wide lenses, and a Tom Holland head sculpt. Each head sculpt offers a differn't dynamic, and looks awesome on display.
THE FINAL STATUE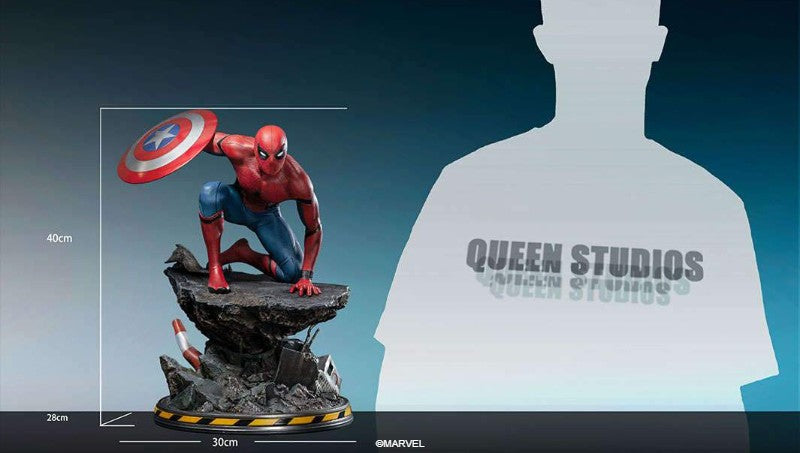 After months of hard work, the Queen Studios 1/4 scale Captain America: Civil War Spider-Man limited edition collectible statue is now complete.
All premium orders of the Queen Studios 1:4 Spider-Man statue will include a Tom Holland head sculpt. While the regular 1:4 Spider-Man statue comes with two interchangeable head sculpts. A narrow lens sculpt, and a wide lens sculpt. 
COLLECTIBLE INFORMATION
Spider-Man 1:4 Scale Captain America: Civil War Statue
License: Marvel 
Material: Polystone
Regular Edition: Two masked head sculpts (one wide lense, one narrow lense)
Premium Edition: Two masked head sculpts + additional head sculpt with character likeness
Size: 

40cm (H) x 30cm (W) x 28cm (L)

Estimated Delivery Date: Quarter 3 2021
Availability: Mainland China, Hong Kong, Taiwan, Korea, Brazil, Japan and Europe
Collectors in Europe can still order now from Deriv Store
GET THE LATEST NEWS AND UPDATES
If you want't to be one of the first to find out about new products and get the latest scoop, then sign up to our awesome new newsletter!
---
Post by Luke Wainhouse
---